Website Designers Norwich
Are you looking for a website for your business?
Our websites are all fully responsive & look great on any mobile device
Our websites are easy to edit
Our websites all come with a secure SSL Certificate
Competitive Price
We may not be the cheapest around Norwich, but most companies charge way more than we do for much less than we give.
Our websites start at under £599 + vat, but we build bespoke websites for any business in and around Norwich and any budget. Helping you grow your business is our goal, so whether you're a sole trader just starting out, an established SME, or a big corporation, we can build you what you need.
All our packages offer tremendous value for money – plus you get to work with us (which is fun) and we're always at the end of the phone.
Quality Web Designers
We are well known locally for producing great looking, functional, and truly responsive websites. However, they don't just look good, they actually work.
We don't use a WordPress template like the majority of web designers – we build our websites from scratch using our own content management system, to ensure your new website is personalised to you and your business.
We only make quality websites, and we promise you'll love yours.
Customer Service
Our reputation has been built on our customer service.
After your website is finished we'll be available with ongoing maintenance and support – All you'll have to do is give us a call (or arrange a time to pop in to see us if you prefer), and we'll be able to sort out any issues you're experiencing with your website or your hosting.
However, our dedicated hosting service means downtime is practically non-existent - another major benefit for you and our other customers.
Proven Track Record
How many web design companies do you know that are still around after 15 years? Not many that's for sure!
Sadly this is an industry filled with 'here today, gone tomorrow' companies looking for a quick buck. That's not how Designtec operates. We're here for the long term – we've produced beautiful websites for happy customers for 20 years.
We are a Norfolk Trusted Trader, and we have 200+ five-star reviews on our main website all praising our service.
What Makes Us Different?
We are honest, and transparent, and we do what we say we will. Many Norwich businesses come to us after a poor experience somewhere else. That means they can be somewhat wary and are often dubious about what we can do for them. We do all we can to exceed their expectations because we enjoy watching them succeed..
Examples of our website designs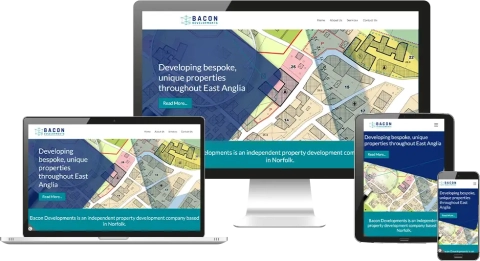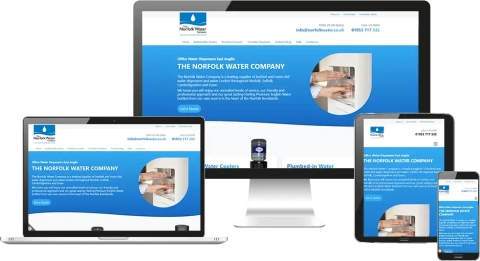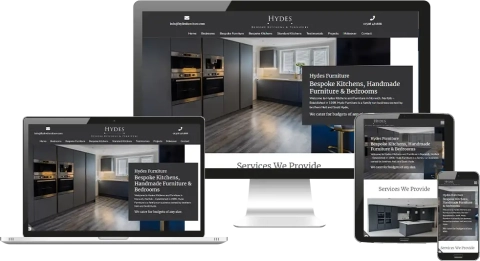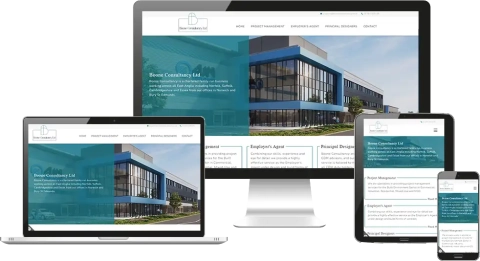 We have a range of website packages to suit your needs
Starter Website Package
5 pages – A great looking secure website. Perfect for launching your new venture on a budget.
Easy to update, with full training included, unlimited content, contact forms, and professional business email addresses..
Business Website
Up to 10 pages each Google optimised to help expand and grow your online presence.
Easy to update with no limit to your page content, email addresses, contact forms, document download, and a customer review page.
Business Pro Website
Unlimited pages and unlimited content, offering high detail designs and tons of features. This package has all you need to market your business online and more.

3rd party and social media integration, picture gallery, email addresses, contact form, analytics set up, and fully SEO'd for maximum visibility - with full SEO training too.
Ecommerce Website
Unlimited shop items, this is the ultimate user friendly, search engine optimised online shop for those with products they want to sell online.
This package is custom built to give you an online sales tool that gives you the features you need. Give us a call on 01603 952811 to arrange a meeting to discuss your needs.
What's Included with your website design?
That's a great question. What do you get when you choose us to design you a website?
Well firstly you get our experience – we've already said we've been around for a long time, and during that time we've learned what works and what doesn't, and we've kept up to date with all the changes in design, graphics, copy, and SEO - we know what we're doing.
But you'll get this too…
Free Website Training
We'll build your site for you, and we'll also teach you how to use it.
With our easy to update content management system you'll soon learn how to add new content, add and change images, write blogs - and we'll even help you with SEO so other people can find you on the web. And of course, if you get stuck you've got our number!
Free Facebook Branding
Part of your package will be making sure your brand image is consistent across the major social media platforms like Facebook and Twitter.
As we design graphics for your website we'll also use them on your social media pages, and we'll teach you how to use social media effectively as a business.
Free SEO Training
Search Engine Optimisation… 3 words most people have heard but don't really understand. We do - and we'll teach you to understand it too.
Once you know how Google works you'll be able to boost your presence online easily – the right way!
Support
We have a 'we want to help you succeed' approach that quickly builds trust and loyalty with our customers.
Support is something we take seriously – it includes the already mentioned website and SEO training and extends to website hosting on our dedicated UK servers, 24/7 emergency telephone and email support, and coaching on how you can grow your business on the web.
Why Do You Need A Website?
Where do you look if you want to find something?
A new product or service?
A better deal on your phone?
A better price on clothing, shoes, or shopping?
Where would you look to research a business you were thinking of using?
Google of course – and if you're doing it so is everyone else.
That's why you need a website… but it has to be a good website… a website that looks great on any device… a website that's search engine optimised so easy to find… a website you'll be proud to show your clients. And that's what we'll build for you. Guaranteed. Simply fill in the contact form or Call: 01603 952811 today and let's talk.
About Us
We've been building websites since 2003 – for all sizes and all types of business from sole traders to large companies.
During that time, we've won awards – and have been chosen as one of the top 3 web designers in Norwich for the last 3 years in a row by independent review company Three Best Rated.
We have also achieved Certified Google Partner status in the category of 'Search Advertising'. That means a lot to us as a team, but what it means to you is that we can help you create and optimise effective ads that show up on Google Searches, and we can also advise you on your keyword strategy and budget planning.
Our continued success is all down to an ethos of providing a quality product coupled with exemplary customer service.
We want our clients to be proud of their websites, so we are never happy until they are happy – that means we always go out of our way to make sure that they are.
For more information on us and our services, see our full website; www.designtec.co.uk
Responsive website designers
Here at Designtec Ltd, Our Responsive websites designs, will help you stand out from the crowd let us design you a website you will be proud of.
Web design agency
Are you looking for a local web design agency give us a call on 01603 952811 we have helped over 300 local Norfolk businesses.
Affordable web design services
We offer affordable web designs for small business. Our Starter Web Design Package is ideal for start up business.
If you are looking to work with a company for web design Norfolk You have found us :)